Sangiovese is Italy's most commonly-planted red grape variety and is particularly common in central Italy. In 1990, almost 10% of all Italian vineyards were planted with some form of this grape. Under its various names (Brunello, Prugnolo Gentile, Morellino), it is the principal vine variety used to produce Chianti and other Tuscan red wines. In Tuscany alone, no less than 25 appellations require Sangiovese as the main grape variety in the blend. Sangiovese has many clonal varieties, two of which predominate. The Sangiovese Grosso variety Brunello is used for the dark red, traditionally powerful and slow-maturing Brunello di Montalcino wine. The other is the Sangiovese Piccolo, also known under the historical synonym Sangioveto, used for standard Chianti Classico DOC wines. A third variety, Morellino, is used in a popular wine blend of the same name found in the southern part of Tuscany.

While sangiovese is the sole grape variety permitted for Brunello di Montalcino and is the basis of the blends for Chianti, Vino Nobile de Montepulciano and the vast majority of the "super-Tuscans" (such as Sassicaia and Ornellaia), it is also the main red grape for all of central Italy, widely planted in Umbria (where it gives its best results in the DOCG wines Torgiano and Montefalco), in the Marches (where it is the base of the Rosso Piceno, and an important component of the Rosso Conero), and in Latium.

The Sangiovese vine itself, probably indigenous to Tuscany, is of ancient origin, as the literal translation of its name ("Blood of Jove") suggests. Conventional descriptions of Sangiovese divide the variety into two families: Sangiovese Grosso, to which Brunello, Prugnolo Gentile and Sangiovese di Lamole belong, and Sangiovese Piccolo. The former is generally considered to be superior.

Sangiovese is slow and late to ripen, which gives a rich, alcoholic and long-lived wine. Over-production tends to accentuate the wine's acidity and lighten its colour. Further difficulties are experienced because of the rather thin skin of the grape, making it susceptible to rot in damp years.

Throughout Tuscany, Sangiovese is now often blended with Cabernet Sauvignon or Cabernet Franc, whether for Chianti (where Cabernet Sauvignon must not exceed 15%) or Vino da Tavola. The blend is highly successful, producing intense fruit and colour, and there are numerous excellent Vini da Tavola so-named because the exceed the blend limit and not because they are inferior in taste to the DOC and DOCG wines.

Trebbiano is the most common name for the undistinguished Ugni Blanc grape. It has many mutations and sub-varieties such as Procanico in Tuscany and Umbria. It is so widely planted in France that probably produces more wine than other vine variety in the world. It's more often cited in DOC regulations that another other single variety and may well account for more than a third of Italy's entire DOC white wine production. The wines are generally light, white and crisp. Trebbiano (along with Malvasia) has been excluded from the official Chianti Classico DOCG composition from the 2005 vintage onwards.

Historical references to Trebbiano include Pliny ("vinum trebulanum") and Petrus de Crescenthiis in 1303, making it an ancient vine. Today, Trebbiano's principal varieties are Trebbiano Toscano, Trebbiano Romagnolo, Trebbiano d'Abruzzo, Trebbiano Giallo and Trebbiano di Soave.

Vernaccia is a minor grape of ancient origin grown in San Gimignano in the Tuscany region of Italy that traditionally produces dry, lean white wines that soften after two or more years bottle aging. It also used to create sweet golden white wines. An unrelated variety is the Vernaccia di Oristano from Sardinia that produces sherry-like wines with enormous aging potential.

Canaiolo (Nero) is now a somewhat minor grape grown in Tuscany to produce red wine often used for blending with Sangiovese Grosso in some of the Chianti range of red wines. Is also an ingredient in other local blends. Has many synonyms including Caccione (Nero), Tindillaro and Uva Fosca.

Canaiolo, also known as Canaiolo Nero to distinguish it from the white-berried version (Drupeggio) widely used alongside Trebbiano, Malvasia and Grechetto in many central Italian white blends, is one of the historic red grapes of Tuscany. Along with Sangiovese, it was, in the century between 1870 and 1970, the basis of the blend of Chianti Classico, the other Chianti-style wines produced in a substantial part of the territory of Tuscany, and of Vino Nobile di Montepulciano. Canaiolo could well have been the most important grape in Chianti Classico until World War I. It was only the result of the prestige which Sangiovese enjoyed as a result of the work of Baron Bettino Ricasoli, who gave Sangiovese a privileged place in his famous "formula" for Chianti, Sangiovese and Canaiolo, which tipped the scales in favour of Sangiovese.

Canaiolo has a long history behind it. Petrus de Crescentiis cited "Canajuola" as early as in the first decade of the 14 C and describes it as a "lovely grape, one to cherish and protect" ("bellisima uva e da serbare"). Canaiolo was successively cited by Soderini in the 17 C and by Villifranchi in the 18 C.
Ciliegiolo was referred to in the early 17 C by the Florentine writer Soderini who described a "Ciregiuolo dolce" with a long bunch, a somewhat large berry, and a sweet and fragrant flavour. Currently, Ciliegiolo is cultivated almost exclusively in Umbria and Tuscany, though the two regions give distinctly different wines. The Ciliegiolo of Umbria, grown in an inland area with a somewhat cool, continental climate, is a light, fruity wine meant to be drunk young. In Tuscany, in contrast, beginning with vintages at the end of the 1980's, a warmer, more maritime climate and a more ambitious winemaking philosophy have produced startlingly different results. These have come principally from the Maremma, the coastal area of the region in the province of Grosseto.

Colorino is a variety occasionally used in a light-bodied blend, based on Sangiovese, with other red wines of Tuscany. The grape has several synonyms. The well-known Chianti Classico Ruffino Riserva Ducale Oro is composed of Sangiovese (85%), Colorino (10%), Merlot and Cabernet Sauvignon (5%)
Masseretta, also known as Barsaglina Nera, is an indigenous Tuscan grape that takes its name from the city of Massa in the province of Massa Carrara in northernmost Tuscany and is limited in cultivation to this province where the mountains descend almost all the way to the coast. This topology has resulted in some of the most striking vineyards in Italy: a series of terraces hewn into the steep slopes, planted as tightly as possible, often with close to four thousand vines per acre, and worked without tractors. The characteristics of Masseretta make it a likely candidate for the commercial production of red wine and the first vintages have shown that the wine can be aged in oak with highly satisfactory results, giving a certain spicy complexity and sweetness to its fruit. At the moment, Masseretta-based wines are not entitled to appellation recognition and can only be marketed as Tuscan IGT wines.
Inzolia is planted extensively on the west coast of Sicily where it is made into a wine commonly blended with the Grillo and Catarrato Bianco grape wines in order to create the famous dry and sweet "Marsala" white wines of historical significance. The grape is also found in Tuscany region of Italy where it is known as Ansonica.
Mammolo, an increasingly rare violet-scented grape mainly grown in Chianti DOC region of Tuscany. Mammolo is a red wine producing variety used in the various blends of the area. Synonym: Fegeri. The Castello di Volpaia Chianti Classico Riserva "Coltassala" contains mammolo to add a powerful perfume to the sangiovese.

Aleatico is an unusual red thought to be a mutation of Moscato or Muscat and grown all over Italy. It is used to make sweet and perfumed reds in Tuscany, Lazio and Apulia among other regions.
Malvasia (in French "Malvoisie", in English "Malmsey" and in German "Malvasier") is the name widely used for a complex set of grape varieties. Ancient and of Greek origin, it produces wines high in alcohol and, often, with residual sugar. Most are deeply colored whites but some are, usually light, reds. The word Malvasia is the Italian derivative of Monemvasia, the southern Greek port and Venetian fortress that, in the middle ages, was famous for its dessert wines. So important was Malvasia during the time of the Venetian Republic that wine shops in Venice were called "Malvasie".

White Malvasia Bianca, the largest part of production, is widely used throughout Latium, Umbria and Tuscany. The finest dry white varietal Malvasia is made in Friuli, where there are two DOCs, Collio and Isonzo.

Under EU rules, any wine made on the Portuguese island of Madeira must be 85% Malvasia to be called Malmsey.

Moscadella is a mediaeval Tuscan grape variety still grown in minute commercial quantity. It is used in producing a somewhat rustic, amber-colored series of slightly frizzante sweet wines in the Montalcino DOC of Tuscany.

Vermentino is a crisp, acidic grape with herbal hints lent by the Mediterranean scrub, Vermentino is among the most appreciated Italian native whites. Extremely durable and resistant to both heat and drought, it grows particularly well in coastal areas such as the Tuscan Maremma or the rocky Gallura in Sardinia.
Introduced Tuscan Wine Grape Varieties
Cabernet franc is a French varietal widely grown in all regions of Italy, but especially in Veneto and Friuli-Venezia Giulia. In Tuscany it is used to add powerful flavour to Vino da Tavola blends, some of which are excellent. A good example is made by Podere San Cresci.
Cabernet sauvignon is widely grown all over Italy and has become the base for some of the most appreciated and expensive Tuscan red wines. Similar to other original French grapes such as Merlot and Cabernet Franc, it was widely planted throughout Italy after phylloxera wiped out most of northern Italy's vineyards at the end of the nineteenth century.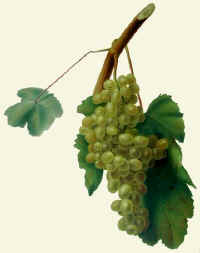 Clairette or Claretta di Nizza is probably of French origin and is used in Tuscan and Sardinian white blends.
Merlot highly productive and adaptable variety of Bordeaux that was introduced into Italy probably at the end of the 19 C. Today, it is the third most planted red grape in Italy and is widely used in Tuscany blends to add perfume and colour.
Syrah or Shiraz is thought to be of Persian origin and is very popular in Australia as well as in the Rhone Valley. Given its resistance to heat, it is gaining popularity throughout Italy and especially in Sicily, the Tuscan Maremma, Latium, and other areas where the summer heat can be intense. It is used in both blends and varietal bottlings.
Tempranillo is a Spanish grape that is gaining popularity especially among wine-makers from the Tuscan Maremma.